Leg Injury
Added: 2009-08-26 09:51:52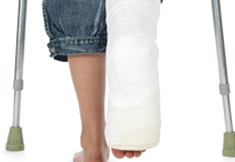 Leg contusions and injuries may completly change future life and existence in the society. There are many different types and ways of injuring leg. It may happen everywhere and it is crushial to be certain that the accident was not the injured's fault.
The most extreem and traumatic are amputatioins of legs. You may gain up to £165,000 if you totaly lost both legs and up to £150,000 if you lost them abow the knee. In case of loosing one leg above knee you should be awarded with the sum of £75,000 and if the ambutation of the leg is below the knee you may claim for up to £65,000. For the amputation of both feet you may get up to £100,000 and for the amputation of one foot up to £57,000.
The most severe leg injuries are rewarded with the sum ranged the level £43,000 - £70,000. As far as moderate leg injuries are concerned the award which you may gain is up to £28,000 while mild leg injuries are usually rewarded with £10,000.
Please, remember that each accident should be investigated by the lawyers indyvidually and all above information are not applicable in all cases.